Wooden hot tub with fiberglass interior is a modern hot tub for a lower price. It has closed fiberglass bench that saves 15% of water and integrated fiberglass edge board on the top edge of the tub that will never rot or change colour. 
Fiberglass hot tub is perceived as more hygienic compared to a fully wooden hot tub. 
It never 
leaks and can be kept empty, it is easy to clean it with a sponge. 
You can choose from either wooden or fiberglass lid. 
The colour of fiberglass can be white, grey and blue.
---
PRICES OF FIBERGLASS HOT TUBS
:
Internal diameter
Ø 180 cm
180 x180 cm
External diameter
Ø 201 cm
202x202 cm
Capacity
4-6 persons
6-8 persons
Type of wood
Volume
1700 liters
1800 liters
Siberian Spruce with fiberglass interior
3.385 €
3.385 €
Siberian Larch with fiberglass interior
3.655 €
3.655 €
Thermowood with fiberglass interior
3.655 €
3.655 €
Composite wood with fiberglass interior
3.925 €
3.925 €
WHAT TYPE OF WOOD IS BEST? Click here...
Spruce is white coloured, light, soft, flexible and naturally good looking. It is one of the strongest types of timber and is imported from Siberia. It doesn't conduct heat and doesn't leak resin. Spruce is the cheapest option but it is susceptible to rot therefore must be regularly treated and sealed. In order to make a spruce tub more durable it is necessary to impregnate (paint) the outside surface of the tub 2-3 times a year. 
---
Larch is light red coloured, strong, hard, water-proof and above all – rot resistant. Because of its density it is very durable even without additional finishing and requires no harmful chemicals to preserve it. It is virtually irreplaceable in situations where chemical finishing of wood is not permitted but its durability in all weather conditions must be guaranteed. Over time its resilience and density will only grow.
---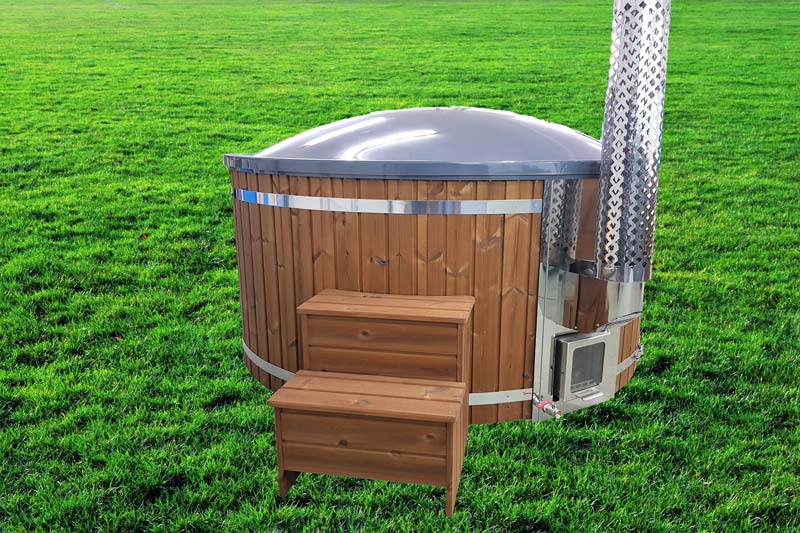 Thermowood is darker than natural wood, more weather-proof and more resistant to rot. Its insulation qualities are better, it suffers from less moisture deformation and is more stable. The production process improves the dimensional stability and biological durability of the wood. If you want to preserve the natural colour of Thermowood it is recommended to treat the wood with linseed oil.
---
Wood-plastic composite is a material composed of wood fibers and plastic resins. It is a material that does not gray, does not contain splinters and is resistant to slipping. It does not require any special maintenance and should be able to be recycled indefinitely. It is very durable and will not be affected by insects, UV rays, high humidity, temperature fluctuations, etc.
---
A hot tub with fiberglass interior will arrive at your home fully assembled and equipped with:
Wooden barrel with fiberglass interior (wall thickness 24 mm);

Internal 22 kW AISI 430 stainless steel heater (for sweet water only);

2 meter chimney and rain cap;

Closed fiberglass benches (saves ~15% of water);

Wooden fence for internal heater with bottle holder;

Ash removal set for internal heater;

Entry stairs LxWxH 60x60x60cm;

Water drainage plug;

Wooden lid for 160 cm model;

Fiberglass lid for 180 cm and 200 cm models;

Fiberglass edge board around the top of the hot tub;

Paddle to mix water.
Colours of fiberglass:
White RAL9001

Gray RAL7015

Blue RAL5012
ADDITIONAL OPTIONS
Heaters:
More powerful internal heater 26 kW AISI 430 – 50 €
External heater 22 kW AISI 430 – 100 €

More powerful external heater 28 kW AISI 430 – 235 €

More powerful external heater 32 kW AISI 430 – 370 €
Stainless steel:
AISI 430 stainless steel for sweet water only – 0 € (already included)

AISI 304 stainless steel resistant to chemical products – 50 €

AISI 316 stainless steel resistant to chemical products and salt – 150 €
Reduction of time and cost of heating:
Design elements:
External wood treatment:
Water treatment:
Jacuzzi systems:
Large stairs:
Accessories:
DELIVERY CONDITIONS
Delivery time: 8-16 weeks.
Free delivery in Belgium the Netherlands and Luxembourg, small extra delivery fee to France, Germany, UK, Switzerland, etc.
Installation service in Belgium – 90 €.
All prices are in Euro, VAT included. For customers in Switzerland, VAT is 0% instead of 21%.
Warranty: 2 years.
Please contact us to receive a personal offer!