Wooden hot tubs with plastic interior require less maintenance. The colour of the plastic can be light gray (beige), dark grey, light blue, white or black. Although at first sight they might look less natural, there are many practical advantages to having a hot tub with plastic interior. Plastic tub never leaks and can be kept empty, it is easy to clean it with a sponge. Generally the plastic hot tub is perceived as more hygienic.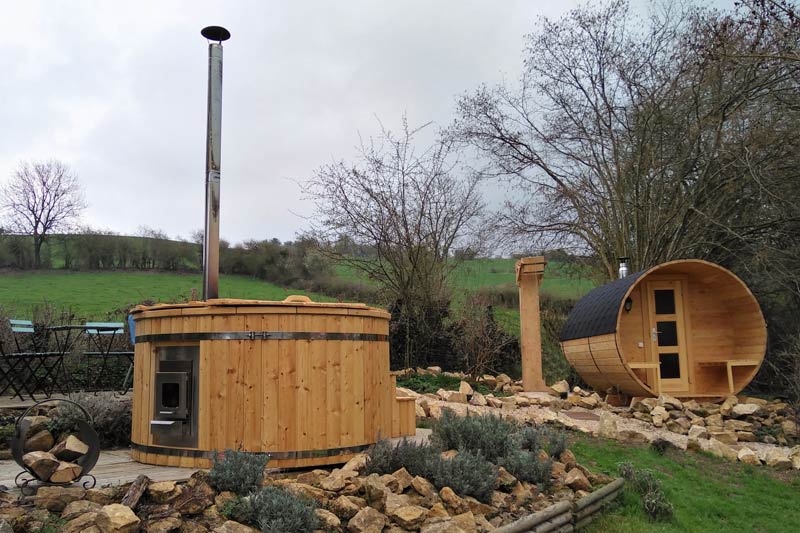 ---
PRICES OF PLASTIC HOT TUBS
:
Size
Ø160 cm
Ø180 cm
Ø200 cm
Ø220 cm
Volume
1800 liters
2300 liters
2800 liters
3500 liters
Type of wood
Capacity
4-6 persons
6-8 persons
8-10 persons
9-12 persons
Siberian Spruce with plastic interior
1900
1950
2000
2050
Siberian Larch with plastic interior
2100
2150
2250
2350
Thermowood with plastic interior
2250
2300
2400
2500
A hot tub with plastic interior will arrive at your home fully assembled and equipped with:
Wooden barrel with plastic interior (wall thickness 24 mm);

Internal AISI 430 stainless steel heater 22 kW with 2 meter chimney and rain cap;

Stainless steel belts;

Wooden bench;

Wooden fence with drink holder for internal and integrated heater;

Ash removal set for internal heater;

Entry stairs LxWxH: 60x60x60 cm;

Water drainage plug

;

Wooden cover;

Wooden edge board around the top edge of the hot tub;

Paddle to mix water.
Colours of plastic:
ADDITIONAL OPTIONS 
Internal heaters:
Internal heater 22 kW AISI 430 (already included) – 0 € 

Internal heater 26 kW AISI 430 – 50 €
External heaters:
External heater 22 kW AISI 430 – 100 €

External heater 28 kW AISI 430 – 150 €

External heater 32 kW AISI 430 – 250 €
Integrated heaters:
Stainless steel type:
AISI 430 stainless steel for fresh water (included) – 0 €

AISI 304 stainless steel resistant to chemical products (included for integrated heater) – 150 €

AISI 316 stainless steel resistant to chlorine, salt and sea water – 280 €
Reduction of time and cost of heating:
Design elements:
External wood treatment:
Water treatment:
Jacuzzi systems:
Large stairs:
Accessories:
DELIVERY CONDITIONS
All prices are in Euro, VAT included.
Free delivery in Belgium, small extra delivery fee to the Netherlands, France, Luxembourg, Germany, UK, etc.
Installation service in Belgium – 70 €.
Delivery time: 2-3 weeks.
Warranty: 2 years.
Please contact us for a detailed offer or for any additional questions.