Choosing a wooden construction means opting for a high-quality product at a lower cost. This requires significantly less investment in terms of time and money compared to a durable construction. Forest Spa offers garden offices that now possess the benefits of a home extension. They have been designed to provide genuine comfort both in winter and summer. The architectural design of these wooden chalets combines a modern style with the natural beauty of wood. Large windows ensure a panoramic view and pleasant brightness inside. To construct our chalets, we employ traditional materials and advanced technology to provide comfortable, well-insulated, and bright spaces. We offer a wide range of interior arrangements, allowing you to create an office, a relaxation space, a sports area, or a guest room. Each garden office is constructed by an experienced team and guarantees you a privileged and enjoyable living space for everyday life.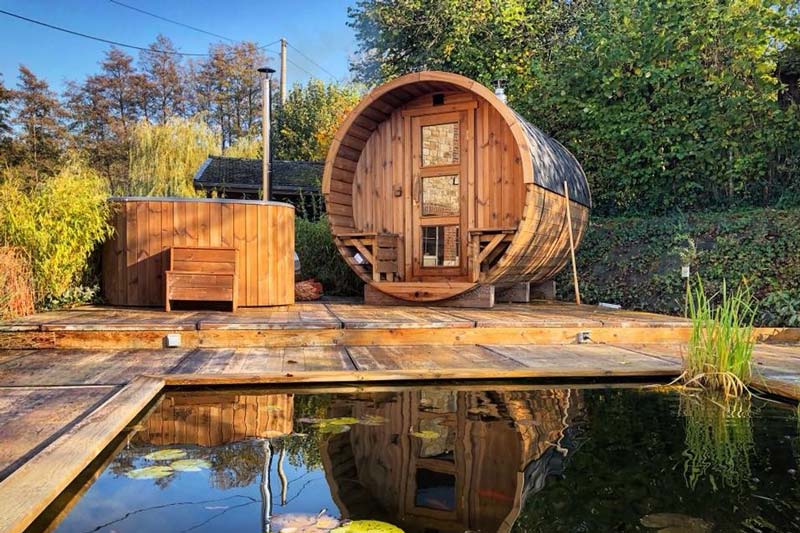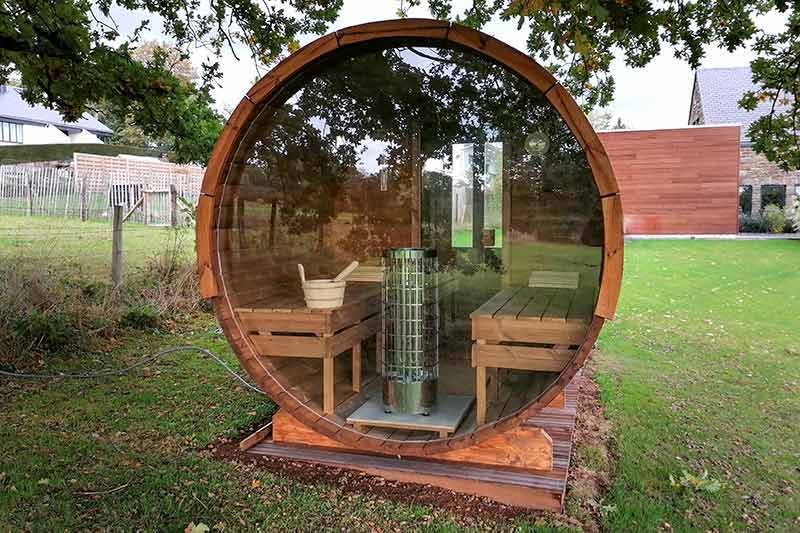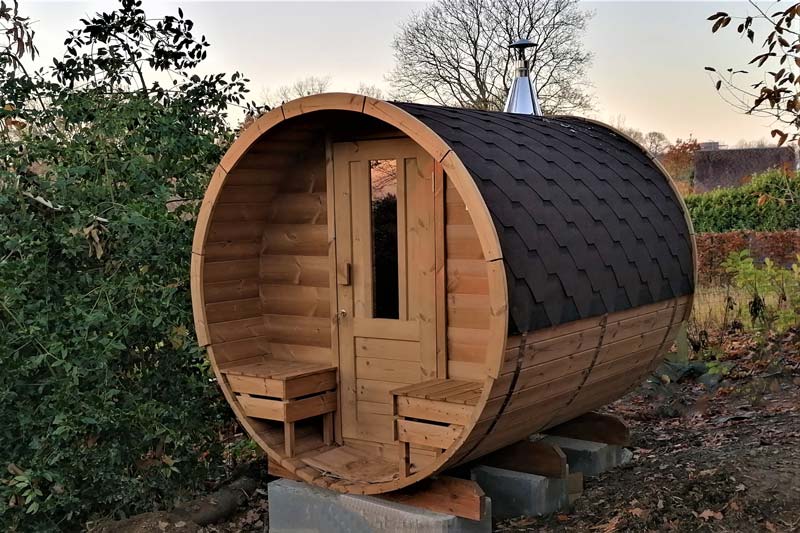 ---
Modellen en Ontwerpmogelijkheden
There are several models and sizes available: 3×3, 3×4, 3×5, 3×6, 3×8.
GARDEN CUBE PRICES
| | Capacity | Sauna room volume | Diameter | Price |
| --- | --- | --- | --- | --- |
| Sauna Kota 4,5 m² | 3-5 persons | 9 m³ | 2,7 m | 4.495 |
| Sauna Kota 7 m² | 5-7 persons | 13 m³ | 3,2 m | 6.070 |
| Sauna Kota 9,2 m² | 7-9 persons | 19 m³ | 3,8 m | 7.570 |
| Sauna Kota 9,2 m² with changing room | 5-7 persons | 11 m³ | 3,8 m | 8.185 |
| Sauna Kota 16,5 m² with changing room | 8-14 persons | 14 m³ | 4,9 m | 10.920 |
| Grill Kota 9,2 m² with 4 m² sauna | 5-7 persons | 8 m³ | 3,8 m | 9.430 |
| Grill Kota 16,5 m² with 4 m² sauna | 8-14 persons | 8 m³ | 4,9 m | 11.685 |
WHAT TYPE OF WOOD TO CHOOSE FOR A SAUNA? Click here for more information.
Saunas from FOREST SPA can be made from 3 wood types:
Siberian Spruce;

Siberian Larch;

Thermowood.
The timber used forour saunas is imported from Siberia or Finland; the wood grows slowly in the cold climate and is much thicker and more resilient than timber grown in the warmer areas of Europe. This type of wood is very durable, weather resistant and also gives a pleasant aroma. Our saunas can be treated with linseed oil or paint to seal and protect the wood from moisture and dirt.
Spruce is white coloured, light, soft, flexible and naturally good looking. It is one of the strongest types of timber and is imported from Siberia. Spruce is the cheapest option but it is susceptible to rot therefore must be regularly treated and sealed. In order to make a sauna more durable it is necessary to impregnate the outside surface of the sauna at least once a year. If you do so you will be able to use a spruce sauna for 15-20 years.
Larch is light red or brown coloured, strong, hard, water-proof and above all – rot resistant. It doesn't conduct heat and doesn't leak resin. Because of its density it is very durable even without additional finishing and requires no harmful chemicals to preserve it. It is virtually irreplaceable in situations where chemical finishing of wood is not permitted but its durability in all weather conditions must be guaranteed. Over time its resilience and density will only grow so you will be able to use a larch sauna for 25-30 years. The only downside is that larch swells and shrinks more than spruce therefore some gaps may occur between the planks over time. Saunas made from Siberian larch give the optimum price/quality combination.
Termowood (Wikipedia) is darker than natural wood, more weather-proof and more resistant to rot. Its insulation qualities are better, it suffers from less moisture deformation and is more stable. The manufacturing process of Thermowood is based on the use of high temperature and steam. No chemicals are used in its production.  The production process improves the dimensional stability and biological durability of the wood. Another improvement is in the insulation properties of the final material.  Thermally treated wood swells and shrinks about a quarter less than untreated wood. Therefore Termowood is excellent for exterior saunas, you will be able to use a Termowood sauna for 25-30 years.
---
The sauna will arrive at your home fully assembled and equipped with:
Spruce, larch or Thermowood barrel (wall thickness 45 mm)

Stainless steel straps

Bitumen roof (black, brown, green or red)

Front door with windows

Two windows on the back wall

Sauna room door from tempered glass (for saunas with changing room)

Two sauna benches from Thermowood

Wooden floorboard

Ventilation flap

Your chosen optional extras
ADDITIONAL OPTIONS
Woodfired heaters:
Electrical heaters:
Our wood-burning heaters are equipped with the double-walled chimney with the rain cap, sauna stones, and thermal protection for the floor and walls (special plates between the heater and wooden surfaces).
Other heater models are available on request (for example for commercial use).
Modifications:
Windows:
Lighting:
External wood treatment:
Sauna accesories:
Additional accessories:
DELIVERY CONDITIONS
Delivery time: 2-4 months.
Free delivery in Belgium, Luxembourg and the Netherlands (a small fee applies to deliveries in France, UK, Germany and Switzerland).
All prices in Euro, VAT included. For customers in Switzerland, VAT is 0% instead of 21%.
Usually all our saunas are delivered fully assembled. The buyer takes care of unloading the sauna.
If you do not have a direct access to your garden, we can deliver the sauna as a kit and assemble it at your place.
Please CONTACT US by sending an inquiry with detailed requirements. We will give you our best offer in no time.
DELIVERY EXAMPLES